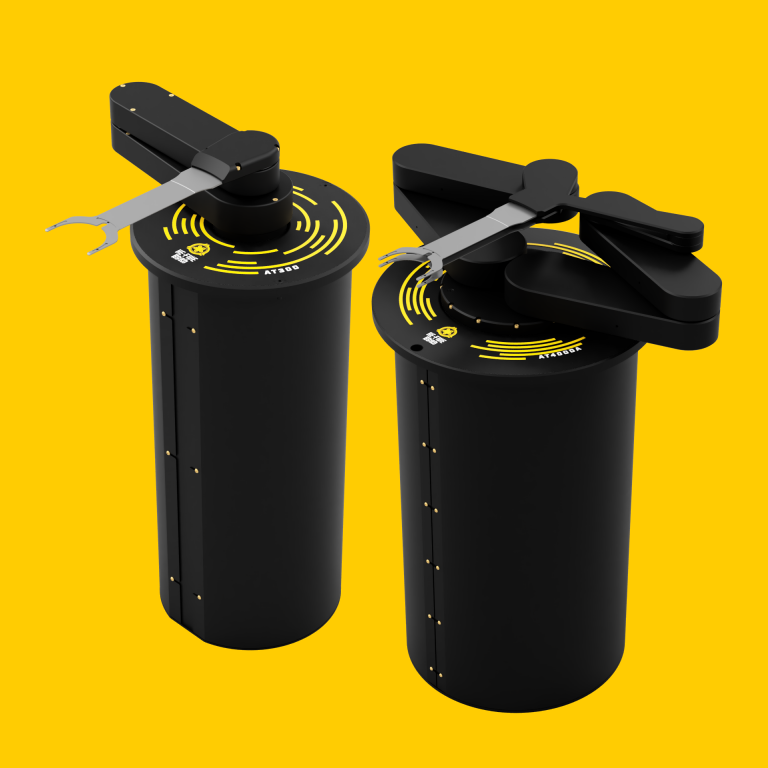 Semiconductor Handling
Flat Panel Handling
WAFER TRANSFER ROBOTS
Industrial Robots
Excellent structural rigidity.
Modular and highly customizable design.
High response brushless servo motors.
Absolute encoders for instant readiness after power up.
Handling radial and in-line wafer pick and place.
Standard RS-232 and TCP/IP interface communication.
Advanced 32-bit real-time motion control kernel.
Powerful wafer handling firmware.
Comprehensive software tools and utilities.
Software emulation for legacy robot macro commands.
General purpose digital inputs and outputs for custom use.
Class 1 clean-room environment compatibility.
Reliability; MTBF > 60000 hours, MCBF > 10,000,000 cycles.
Semiconductor Handling
Flat Panel Handling
YOUR PARTNERS IN RISK REDUCTION
He-Five provides automation solutions through reliable wafer handling equipment. Our mission is to deliver the best and most effective products on the market. Our wafer transfer robots are used in atmospheric wafer handling solutions. They are designed with current and up-to-date technology; producing significant advancement in performance, minimizing contamination, and ensuring reliability for years to come.
WHAT DIFFERENTIATES OUR OFFERING
Innovative Structural Design
High-strength backbone allows for universal mounting.
The structure offers a high degree of modularity.
Compliance with SEMI S2 and other industry safety standards.
Advanced Motion Control Platform
Distributed motion control architecture.
Easy cabling management and maintenance.
Advanced servo algorithms.
Flexible and powerful programming language.
Intuitive, user-friendly software toolbox.
Wafer Handling Software Application
Powerful robot firmware
Emulation for legacy robots
Self-calibration, alignment on-the-fly
Wafer ID Reading
Cassette Mapping
Wafer Sizes
51mm, 76mm, 100mm, 125mm, 150mm, 200mm, 300mm
Operating Temperature
50ºF to 104ºF
10ºC to 40ºC
Axes of Motion
Radial - X/Y Offset
Theta - Rotate Chuck
Z - Raise/Lower Pins
Flat & Notch Compatibility
Configuration Map
B
Bottom Mount : B
Top Mount : T
---
470
---
DA
Single-Arm : SA
Dual-Arm : DA
---
155
---
M
None : N
With mapping sensor : M
With fiber optic sensor : F
---
8
Max wafer size (inch) : #
---
E-08
End-effector part number : E-##
---
SINGLE ARM (3-axis)

Model
Z-Stroke (mm)
Total Reach (mm)
Links (mm/mm)

Bottom Mount

B300SA110
300
220
110/110
B300SA200
300
400
200/200
B400SA110
400
220
110/110
B400SA200
400
400
200/200

Top Mount

T300SA110
300
220
110/110
T300SA200
300
400
200/200
T400SA110
400
220
110/110
T400SA200
400
400
200/200
DUAL ARM (4-axis)

Model
Z-Stroke (mm)
Total Reach (mm)
Links (mm/mm)

Bottom Mount

B400DA155
400
310
155/155
B400DA225
400
450
225/225
B470DA155
470
310
155/155
B470DA225
470
450
225/225

Top Mount

T400DA155
400
310
155/155
T400DA225
400
450
225/225
T470DA155
470
310
155/155
T470DA225
470
450
225/225